Get the App
You can install the app from the iPhone App Store.
On your iPhone, open the App Store app
Select the Search icon
Search for "4myRollout"
Select the icon to GET the app
Login
You'll use your normal username and password; the same username and password you use on the desktop version. If your company using Single Sign On (SSO), you'll be navigated to your company's login page after you enter your username in the app.
View Your Tasks
Task Views
There are 3 primary views of tasks. Change from one view to the other by clicking current view's name in the top right corner.
My Tasks view displays tasks that are assigned to your name for all locations.
My Department Tasks view displays tasks for the selected location, that are associated with your favorite departments.
My Location Tasks view displays all tasks for the selected location.


Task Groups
Tasks are grouped by the date they are scheduled to be completed. Swipe left/right on the group names to see additional groups.
Past Due includes all tasks with a due date prior to today.
Today includes tasks that are scheduled to be completed by today.
Due Soon includes tasks that are scheduled to be completed between tomorrow and the next 7 days.
Future includes tasks that are scheduled to be completed beyond 7 days from today.
Completed lists all tasks that have already been completed.
Filter
You can limit the tasks that are appearing by using the Filters option. If you want to remove all filters, use the Clear Filters option at the top right corner of the filter page. After you select your desired filters, select the View Tasks button. You can filter by:
Discipline + Department. The department names organized by discipline allowing you to easily select all departments within a discipline.
Job Title of the person who traditionally completes the task.
Responsible person's name who is currently assigned to complete the task.
Milestones. When set to ON, only the tasks marked as milestones will be displayed. Milestone are traditional tasks that if missed may impact the overall timely completion of the project.
Phases. If used, tasks can be organized by phases as determined by your company.
Change Location
If you have access to more than one location, you can switch from one location to the other by clicking the Change Location link. A list of all of your locations will be displayed and you can select the location you want to view. You can not view every task for multiple locations, but you can change to the My Tasks view which show all tasks that are assigned to you across all locations.
Change Task Status, Responsible, Dates, etc.
Quick Status Change
You the swipe gesture on the task listing to change the status of a task.
Full Task Details
Select any task to view the task's full details including instructions, status, links, files, and comments.
Who is responsible for completing the task?

Tap on the blue job titleor person's name who is currently assigned in order to select a new person's name.

When should the task be started or finished?

If you have access to change a task's dates, the current date will be in blue font. Tap the date to change the date.

Do you need to leave a note on this task?

Tap the Comment bar at the bottom of the screen to type in your comment. To mention someone in the comment type @ followed by their first or last name.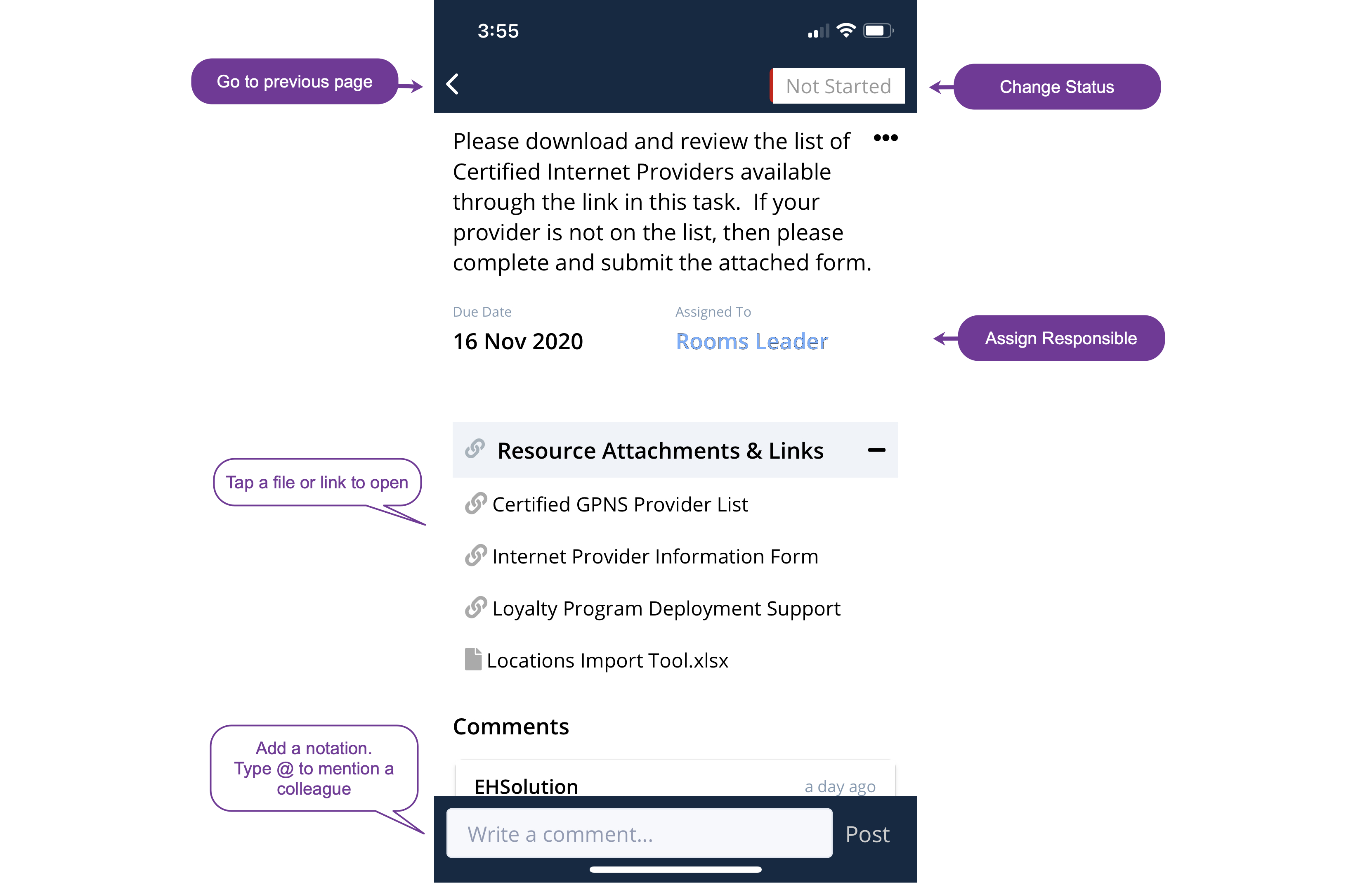 What else can I do?
You can be alerted when a task is upcoming, past due, or when you are mentioned in a comment with Push Notifications.
Create a new task for yourself or a colleague.
Get a summary of notifications and things you need to focus on in the Alerts page.
Setup your favorite departments so you can use the My Department Tasks view.
Find a specific task quickly using the Search option.
Navigate from one location to another using the Search option.
Contact your company's administrator by creating a Support Ticket.
Receive daily or weekly email notifications about your tasks by configuring your Email Notifications.